INVOLVEMENT IN ASSOCIATIONS
LOYS is a partner and active member in various associations and working groups. We are serious about the mandate given by our investors and are committed to act as an ambassador of equity investment, transparency, retirement provision and entrepreneurship.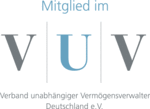 The "Verband unabhängiger Vermögensverwalter" (VUV) is an association of independent asset managers in Germany. Besides fulfilling certain formal criteria all members pledge to adhere to an ethical "Code of Honor" e.g. disclosing any conflicts of interest to existing and prospective clients.

The Private Wealth Management Alumni e.V is a knowledge and education focused organization that conducts speaker events, trainings and panel discussions while financially supporting the postgraduate study program Private Wealth Management at the University of Münster.